PRODUCT IDENTIFICATION
Formulated on the basis of polysiloxanes and polysilicic acid of sodic salts.
APPLICATIONS
Impregnation of porous materials in order to reduce permeability and increase mechanical strength.
MECHANISM OF ACTION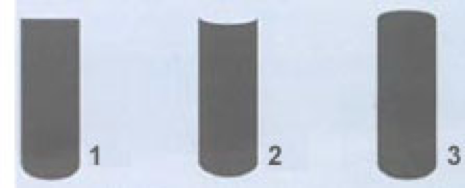 The "IMPREX" product penetrates porous areas and, after a chemical reaction, turns into an
elastic product which is insoluble in water or other solvents. It anchors to the pores walls of the impregnated material, through interfacing chemical reactions.
After the heating, three cases may take place:
1. The thermal expansion coefficient of the "IMPREX" product is equal to the one of its impregnated support;
2. The thermal expansion coefficient of the "IMPREX" product is lower than the one of the support;
3. The thermal expansion coefficient of the "IMPREX" product is higher than the one of the support.
RELEASE OF SUBSTANCES
Especially performed analyses concerning the release of harmful substances, after impregnation, on small burners for coffee makers (Gaggia) have given the following results:
global migration
(Test at 80° C)
Lower than 0.5 mg/dm2
global migration
(Test at 120° C)
Lower than 0.5 mg/dm2
On the basis of the global migration test carried out according to procedures specified in the DM21 of March 1973 and in consideration of the obtained values, the sample was determined to be suitable for its proposed use.
CHEMICAL-PHYSICAL CHARACTERISTICS
APPEARANCE
Dense, odourless, oily liquid, almost limpid, green in colour. Stable for an undetermined period, as long as stored in a closed container.
MISCIBILITY WITH WATER
In all the cases.
SOLID CONTENTS
approximately 470 g/l
PH
10,8 – 12 tq solution
BOILING POINT
102 – 104°C
VISCOSITY AT 20°C
200 – 400 mPa x s.approximately.
TEMPERATURE RANGE FOR OPERATIONS
-60° +700° following impregnation.
RESISTANCE TO PRESSURE
Until breakage of the treated support.
CARBONISATION TEMPERATURE
Does not carbonize, is inert and inorganic.
RESISTANCE TO SOLVENTS
Resistant to all solvents, hydraulic fluids, anti-freezes, motor oils, petrochemical products, salt solution, water, steam, etc.
RESISTANCE TO ACIDS
Acids make it insoluble. Only hydrofluoric acid affects it.
DUCTILITY
The support can be processed after the impregnation treatment, without any problem related to the resistance of the support itself.
THERMAL EXPANSION
2.76 x 10-4/°C. It is remarkable that, even if the expansion coefficent of the impregnating material is different from the one of the impregnated material, the two materials will not separate. This happens thanks to the high level of elasticity of the impregnating material, which always remains well anchored to the walls of the support.
THERMAL CONDUCTIVITY
After hardening, the impregnating material has a low thermal conductivity by itself. Everything changes if the support is different. In the specific case of a support with a high level of thermal conductivity, the reaction of the impregnating material must be considered in two different situations:
1. Porosity: Having the support a high level of thermal conductivity, it remains unaltered, thanks to the high contact surface between the support and the impregnating material: thermal balance is reached at every point in very short time.
2. Surface: The heat quantity transmitted between two surfaces is given by the formula Q=K x S x AT/s = where K = thermal conductivity, S= extension of the surface, AT = temperature gap between the two surfaces, s = thickness of the surface. Since in our instance s is practically equal to 0, it results: Q = K x S x AT/0, but mathematically AT/0 = – therefore Q = -. This means that the infinitesimally small film that there might be on the support does not alter its thermal conductivity.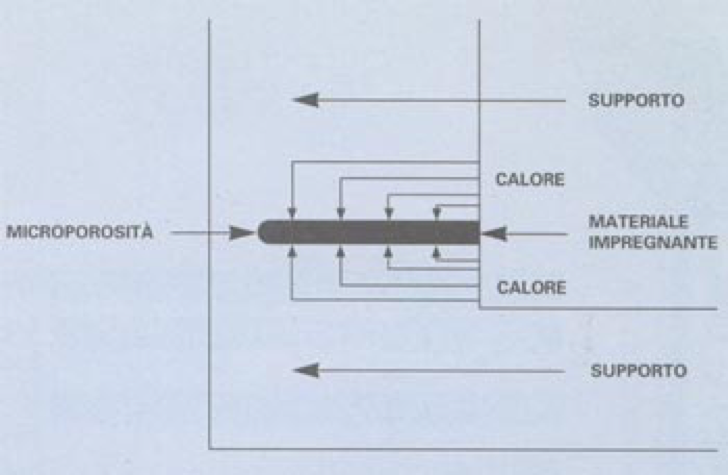 DISINTEGRATION
Disintegration in porosities does not take place. On flat surfaces, it may happen only if it is completely dry, in total absence of water, at a temperature close to 100°C (for two hours).
INFORMATION ON DANGER OF FIRE AND EXPLOSION
FLAMMABILITY POINT
N.A.
LIMIT OF FLAMMABILITY
N.A.
EXTINCTION EQUIPMENT
Not necessary
SPECIAL FIRE PREVENTION PROCEDURES
Compatible with all procedures
DANGER OF FIRE AND EXPLOSION
None
DATA ABOUT CHEMICAL REACTIVITY
STABILITY
Reacts with acid substances. It is immiscible with organic solvents.
CONDITION TO AVOID
P modifications and contact with strong, concentrated acids.
A MATERIALS TO AVOID DURING THE WHAREHOUSING
Copper, aluminium, zinc, tin, lead and alloys.
DANGER CLASSIFICATION
LEVEL OF RISK
The product is classified as irritant.
RISK PHRASES
R 36/38 (irritating to eyes and skin).
SAFETY PHRASES
S2 – S26 – S27 – S37 – S39 (Explanatory note concerning safety phrases: Keep out of reach of children; In case of eye contact, rinse immediately and abundantly with water and consult a doctor; In case of contact with skin, rinse immediately and abundantly with water; Use suitable gloves; Protect eyes and face; In case of ingestion, do not provoke vomit. Wash the mouth immediately and abundantly with water and drink an abundant quantity of water; In serious cases consult a doctor; The product is not considered dangerous).
TRANSPORTATION
No. 256 in compliance with ADR – RID – IMCO – IATA Standards: N.A.
MANIPULATION
Protect eyes with suitable goggles; protect hands with rubber gloves; use suitable footwear to avoid slipping.
SPREADING
Small quantities of the product may be eliminated by abundant water dilutions. The insoluble residue may be gathered mechanically. Larger spills must be absorbed with inert material (soil or sand) and removed with suitable equipment.DISPOSAL
WASTE DISPOSAL
Water solutions containing "IMPREX" having a pH between 5,5 and 9,5 may be unloaded directly into the sewer system. Waste containing "IMPREX" having a pH between 5,5 and 9,5 has to be considered special waste and is disposable in category 2B waste disposal sites.
INFORMATION SOURCES
Regulations for safety and hygiene in the workplace.
HEALTHCARE REQUIREMENTS
RD 1265/34 – L 388/78
GENERAL REGULATIONS
DPR 547/55 – DPR 303/56 – DPR 1124/65 – DPR 482/75
REGULATIONS FOR HAZARDOUS SUBSTANCES CLASSIFICATION
RD 147/27 – L 185/64 – L 256/74